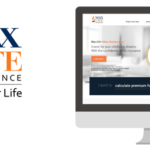 Website meravyapaar Max Life Insurance Co. Ltd
Max Life Insurance Co. Ltd Urgently Hiring
JOB DESCRIPTION: Business Development Manager – Agency Partner Channel – Max life insurance
Location: Cuttack, Howrah, Siliguri, Barasat, Kolkata, Chinsurah, Guwahati, Dhanbad, Ranchi, Jamshedpur, Raipur, Trichipalli, Trichi, Chennai, Hyderabad
To: Branch Manager Department: Agency Partner Channel
Job Summary:
Opportunity to be associated with MAX Life Insurance as the Business Development Manager and build a distribution enterprise.
Responsible for recruiting and managing a team of Leader and agents.
Responsible for recruiting a team of Leaders, who will recruit agents and agents will source direct business.
Key Responsibility:
Exceed recruitment target on new agency leaders and agent enrolments.
Enhance quantity and quality recruitment by developing successful leaders.
Emphasis on quality recruitment by the Agency Leaders and Agency Associates through one om one session.
Create mutual support platform for Financial Executives, Agency Associate and Agents to enable easier recruitment.
Enhance AFYP & Number of cases by the unit.
Focus on potential EC, MDRT, CEO council agents through the complete unit.
Focus on the number of R&R winners.
Focus on enablement and development of the team.
Ensure agents, agency associates, agency associate's unit and agency leader unit is in compliant with various IRDA guidelines.
Timely contract of agents and agency associates within regulatory guidelines.
Monitoring IRDA guidelines impacting AAP channel at the regional level.
Track competition regularly at the regional level on various measure such as new strategies, new compensation models etc. with particular reference to Financial Executives / AAP model developed by the competitors.
Execute plans for growth of the agency.
Identify, interview and select new leaders from the market and by networking.
Ensure adherence to laid down sales and service standards for Financial Executives, Agency Associates, and Agent Advisors.
Conduct weekly performance review and planning (PRP) for team.
Ensure retention of the team by formulating their development plans, meeting their training needs and communicating with them on a regular basis.
Handhold, develop and supervise Financial Executives, Agency Associates and Agents to meet plan and follow growth leadership practices.
Measures of Success:
Building a chain of successful leaders (Financial Executives)
Recruitment (contracted agents) numbers
Add-on of AFYP & number of cases in the team.
Add-on of number of new agency associates
Case Rate & Case Size
Agent satisfaction survey
Accuracy and timeliness of information
Other Responsibilities:
HO co-ordination
Sales promotion activities
Assist in the overall running of the Office
Knowledge / Skills / Abilities:
Selling Skills
Relationship Building skills
Coaching and Developing Team
Result Orientation
Resilience
Discipline
Demonstrating Adaptability
Minimum Education:
Minimum Graduation in any discipline, MBA will be an added advantage.
Minimum and specific experience:
The overall experience of 4-6 years
Preference will be given to candidates having man management experience
Should have a minimum of 2 years of sales experience.
CTC: 4 to 6.5 Lac p.a. (negotiable)
Apply online now or Share CV on WhatsApp at 7011620662 or 8010280101