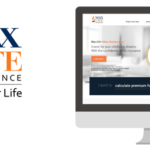 Website MaxLifeIns Max life insurance co. ltd
Karo Jyada ka Iraada
Max Life Insurance – Urgent Hiring – for IMF Channel
CTC – From 3.5 Lacs – Upto 4.5 Lacs Plus Reimbursements and Incentives
Job Description – Deputy Area Manager – IMF
Reporting To – Regional Manager -IMF
Band 4/4A
About Max Life Insurance:
"Max Life Insurance, one of the leading non-bank promoted private life insurers, is a joint venture between Max Financial Services Ltd. and Mitsui Sumitomo Insurance Co. Ltd. Max Financial Services Ltd. is part of the Max Group, which is a leading Indian multi-business corporation, while Mitsui Sumitomo Insurance is a member of the MS&AD Insurance Group, which is amongst the leading insurers in the world. Max Life Insurance offers comprehensive long term savings, protection and retirement solutions through its high quality agency distribution and multi-channel distribution partners. A financially stable company with a strong track record over the last 15 years, Max Life Insurance offers superior investment expertise. Max Life Insurance has the vision 'To be the most admired life insurance company by securing the financial future of our customers'. The company has a strong customer-centric approach focused on advice-based sales and quality service delivered through its superior human capital. In the financial year 2016, Max Life recorded Gross Written Premium of Rs. 9,216 crore with sum assured of Rs. 2,71,633 crore and Asset Under Management of Rs. 35,824 crore as on 31st March 2016."
Job Summary:
· Implement the strategy to setup and develop the IMF Channel in the designated territory. Setup and manage a pool of 10-15 Insurance Marketing Firms or insurance managers, managing a revenue stream.
Key Responsibilities/ Key Deliverables:
Understand the IMF regulation, value proposition & registration process
Independently implement the IMF acquisition plan in the territory
Identify potential leads and sources for prospective IMF's, coordinate with HO for referred leads
Connect with prospects & organize seminars for IMF acquisition
Ensure conversion of leads through effective pitch of IMF value proposition
Ensure quality of IMF's in sync with desired profile
Enable the setup of IMF of agreed prospects
Understand all regulatory requirements and manage the IMF registration process with IRDA
Oversee technology support to enrolled IMF's
Ensure seamless contracting of IMF's with Max Life
Manage performance of setup IMF's in steady state
Develop understanding of products & coach IMF staff on product USP's
Implement a performance management and rewards system
Drive IMF profitability through improving productivity of IMF's sellers & controlling cost of sales
Provide marketing, training and operational support to IMF's
Manage attrition of IMF's through revival or replacement
Drive quality of business sourced from IMF's
Ensure right product mix and control key quality measures such as leakage and persistency
Measures of Success:
IM & IMF Acquisition
Revenue
IMF Activity & Retention
Quality of Business
Job Specifications:
Educational Background: Preferably a graduate
Work Experience: At least 2-6 years of experience in Sales & Distribution, Key Account Management
Knowledge & Skill Matrix.
Additional Information (Optional):
Key Relationships
Nature of the Role
Presence
Commercial Aspect
Cross Functional Skills
Upload CV now or whats app to 8010280101