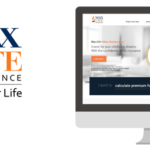 Website meravyapaar Max Life Insurance Company Limited
Max Life Insurance hiring BRM (Team Handling – Leadership Role) – Customer Advisory Team – Delhi NCR
CTC Range: 8 to 9 Lacs
Reporting to: Territory Manager
Job Responsibilities:
Is responsible for managing, developing & supervising the team with a key focus on Service to sales
through relationship management, sales productivity-per-executive, thereby achieving sales & service
targets.
Identify, interview and select sales executives with support from HR.
To meet the following productivity measures for the unit: Premium per executive, case rate, persistency, retention and a high % of executives exceeding planned productivity standards
Exceed revenue targets
Undertake joint field work with executives and observe/demonstrate successful selling skills
Conduct Fortnightly performance review (PRP) with executives
Help executives use the GOLD system for maximizing business from a given target market
Supervise daily activity plan of all executives to ensure that these are being fulfilled as per the desired levels
Ensure that all executives under supervision perform 100% as per the company's rules and regulations wrt. Need based selling, Compliance and Customer service
Effectively manage, track and convert leads provided by the in-house telemarketing unit.
Engage with customers to provide quick response to customer queries, provide customer service.
Assist in Direct customer service policyholder's complaint resolution.
Ensure retention of in his allocated book of relations.
Educate team/ prospects about MNYL products vis-à-vis products of competition to enable them in taking appropriate decisions
DESIRED QUALIFICATIONS AND EXPERIENCE:
Graduate preferably with an MBA degree
Total experience should be 8-10 Yrs with min. 3- 5 years' experience in handling of Sales Reps/Agents/DSAs.
KNOWLEDGE / SKILLS / ABILITIES
Familiarity with the local market
Ability to supervise, develop & motivate team.
Result Orientation
Apply here now or WhatsApp resume to 8010280101