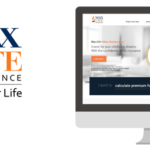 Website meravyapaar Max Life Insurance Company Ltd.
Max Life Insurance Hiring for Customer Advisory Team
Assistant Manager , Deputy Manager, Relationship Manager – CTC Range 3 to 4.8 Lacs
Open Locations – Indore, Ujjain, Margaon, Pune, Jalgaon, Jaipur, Udaipur
Job Responsibility:
1 Establishing and strengthening relationship with the allocated customer base.
2 Ensure retention of in his/her allocated "Book of Relations" (existing customer database).
3 Act as single point of contact for customers for any customer query/complaint.
4 Identify financial goals of customers and providing financial planning assistance.
5 Competition Analysis for giving professional advice to customer
6 Fix self appointments everyday from the given customer database as per the campaign
Preferred Candidate:- Candidate having min 1+ Years of Insurance sales (Banca, Direct, Broking, Tele Sales insurance only).
Age:– 33 Yrs Max
CTC Range: 2.85 Lacs to 4.8 Lacs Plus Reimbursements and Incentives
Share CV on what's app at 7011620662 OR 8010280101 and also on mail at we.care@nirmalgyan.org