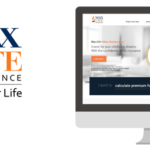 Website meravyapaar Max Life Insurance Co. Ltd
Max life insurance Job Vacancies for Bancassurance Channel Axis Bank Virtual Tele Sales Vertical in Bangalore and Hyderabad – CTC Range 2.5 Lacs to 4.5 Lacs
CTC Range 3 to 4.5 lacs
 Designations
RA Banca (Relationship Associate Bancassurance Digital Tele Sales Vertical) – 2.5 Lacs to 3 Lacs
Assistant Sales Manager – Bancassurance Axis Bank Digital Vertical – CTC 3 to 4 Lacs
Digital Circle Manager – Bancassurance Axis Bank Digital Circle CTC 4 Lacs to 4.5 Lacs
Plus, Reimbursements and Incentives
KEY RESPONSIBILITIES:
Will be responsible for meeting sales target through Bank's FOS.
Will be responsible for maintaining relationships with all constituents in the Bank Branch
Keeping accurate record of referrals received form all constituents in the bank branch.
Shall adhere to agree TATs on first customer contact and follow-ups from the date of the lead being registered.
Shall approach him/herself at least 5 new customers in the bank branch each day.
Increasing bank's customer awareness about Life Insurance solutions and achieve the targeted penetration on cross sell within the branch's customer base.
Drive effectively the Reward and recognition programs launched for the bank staff.
Shall train the bank staff regularly on concepts in life insurance and new product introductions.
MEASURES OF SUCCESS:
Achieving Business Target milestones – AFYP / Blended premium, and no. of cases.
Relationship with Bank Branch Manager
Effective Lead generation and meet value / number targets
JOB REQUIREMENTS
 MINIMUM/SPECIFIC EXPERIENCE:
Graduate in any discipline
Freshers are also eligible
1 to 2 yrs. of overall exp. in sales with a minimum of 6 months' work experience in the fields of Banca, Life insurance sales management, Retail bank distribution, and Channel Management and/or DSA relationship.
Apply online now or Share resume on WhatsApp at 80102-80101 or 7011620662