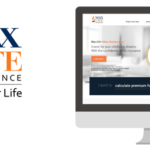 Website Max Life Insurance Company Limited
Max Life insurance job Vacancy in Gurugram
CTC up-to 12 Lacs
Job Position – Senior Manager Business Development – IMF & New Growth Initiatives
JOB SUMMARY:
The incumbent has to be self- starter with drive of hunter, motivated to build relationships & deliver new partnerships which will be instrumental in the success of the organization / Channel. The individual has to operate in the market facing business environment and will work to develop & expand and maintain a positive long term high impact & trusted relationship with the key decision makers in the BROCA, IMF, IM fraternity.
The individual will also work with key internal stakeholder across finance, product, pricing, legal & compliance to grow the Channel
KEY RESPONSIBILITIES:
To identify potential distributor in IMF & BROCA space, in line with channel strategy for profitable growth /successful on boarding & launch of partners
Extending external networks with Key insurance distributors across BROCA, IMF, IM fraternity
Growing MLI wallet/ counter share in BROCA, IMF, IM
Lead proposal development in the area of industry insights, approach & deal closure
Thought leadership & proactive distribution engagement strategy presentation to the decision makers for launch of business partnership
Drive recruitment strategy for IMF, IML & IM through field leadership in respective zones
Provide inputs to sales team and make & drive recruitment strategy for IMF, IML & IM through field leadership in respective zones
Periodic Analysis of region/zone performance, Counsel and Mentor performance, Conduct Fortnightly PRPs with field leadership and Facilitate performance management.
Liaise with training team, ensuring all required training is departed to all partners including MLI resources.
Ensuring distributor visits where %age achievement is lower, and come out with the coping up strategy.
Ensure system requirements for hiring partners are met and compliant with all regulatory requirements.
Deploy and monitor implementation of contests/R&R for their respective Zones in order to accelerate revenue generation with the Channel
Conduct Business Opportunity Presentation / Career Seminar / Believe Building session and assisting the sales team for successful recruitment
Measures of Success:
Business Plan:
Adj MFYP (Rs.) – Plan v/s Actuals
Tie-ups:
Institutional (BROCA, IMF)
Retail (IM, IML)
Customer Score:
13th month Persistency (%)
GIR
Key competencies/skills required
Individual & Team Leadership
Excellent Written, presentation & communication skills
Exceptional consultative & interpersonal skills
Ability to connect with CXO's & top management
Full understanding / experience of handling entire life cycle of a deal from initiation to successful launch
Experience in managing strategic initiative s/ programs
ACCOUNTABILITIES:
§ INDUSTRY KOWLEDGE: Brings through knowledge of the Industry, understands the challengers & provides strategic direction. Conducts, Educates & shares knowledge with the partners on growing their business
CLIENT RELATIONSHIP: Proactively identifies, approaches and enhances strong relationship with key executives, decision makers and influencers at BROCA /IMF/IML
CLIENT ADVOCATE: Leverages the benefits & positioning of MLI products & services and able to recognize an opportunity.
MEETING FOLLOW-UP: Working with key influencers & meticulous follow-up for deal closure & successful launch
PROPOSAL DEVELOPMENT: Build and oversee pipeline of tie-ups & lead proposal development,
Result Orientation, Customer Centricity, Technical Expertise, Managerial Expertise, Problem Solving
DESIRED QUALIFICATION AND EXPERIENCE:
Graduate / Post Graduate with 5 to 7 years of experience in intensive Distribution, Channel Management, Prior experience in insurance essential.
commercial negotiation, positioning MLI's value proposition & winning themes
Result Orientation, Customer Centricity, Technical Expertise, Managerial Expertise, Problem Solving, Role Modeling Core Values.
Apply online now or share resume on WhatsApp at 8010280101 or 7011620662